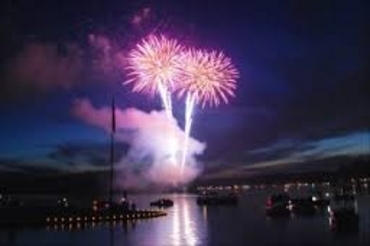 PORTAGE LAKES
July 1st 2017 at 10:00pm
Making Fireworks Happen Year After Year!
The Largest Privately Funded Fireworks in Northeast Ohio!
LET'S CELEBRATE!
The July 4th celebration is coming soon in the Portage Lakes! We need your financial help to keep our Portage Lakes tradition alive. You can help by donating to the Portage Lakes Fireworks Association (a 501C3 charitable non-profit organization 1970186).
These events are only made possible by your Donations. Please help keep this tradition alive. You can donate by mail (P.O. Box 26923) or click on the button below.
Business and Corporate Sponsors
Does your Business want to sponsor this years event?
Funding this event, takes the co-operative efforts of businesses, neighbors and friends. Enclosed, you will find a list of sponsorship packages, offering your business local media exposure, for your tax deductible donation. We thank you, in advance for your continued support.
Package 1 – $500 or more
Business mentioned randomly for a week prior to and the night of the simulcast on The Summit 91.3 FM
Business mentioned in print the week before the fireworks
Business name on back of PLFA 2017 t-shirts
You will receive 2 PLFA printed t-shirts
Package 2 – $250
Business mentioned in print the week before the fireworks
Business name on back of PLFA 2017 t-shirts
You will receive 2 PLFA printed t-shirts
Package 3 – $100
Business mentioned in print the week before the fireworks
You will receive 1 PLFA printed t-shirts